Welcome to Engraved Pets
We are a laser engraving company specializing in pet plaques for our wonderful pets still with us, and in memory of those furry friends that have passed away.  When ordering from us you can rest assured there are no hidden costs, no setup fees, no extra fees for text / names and no extra charge if more than one pet (or even a person) is in a photo to be engraved!   Please browse the site and look over the samples.   Whether you are grieving over a lost pet or would like a nice plaque of your furry companion to hang on the wall, we will take our time and create a wonderful engraving for you.   If you have any questions please use the contact form and we will promptly get back to you!
Engraved Plaques & Granite Garden Stones
Laser engraving your favorite pets photo into wood or granite is a really unique gift for a friend or for yourself.  Those special moments of Rex catching that Frisbee, or Shadow rolling around in the catnip without a care in the world.   We all have those wonderful photos on our phone or computer just waiting to be printed up!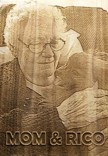 Our engraved plaques make wonderful gifts which are ready to hang on the wall.   The granite marker stones are perfect for in the garden or as stepping stones in your yard.   Imagine how much your mom, dad, or even grandparents would cherish a wooden plaque of their furry friend to display above the fireplace.  An engraved photo of your pet makes a great, lasting gift for generations.  Plus we don't charge extra if a person is in the photo either!   Grandma holding her favorite pet….becomes a timeless gift she will proudly hang on the wall and cherish forever!
Pet Memorial Stones & Plaques
Are you looking for a special way to remember your cherished pet? Look no further than our range of laser engraved pet memorials. Pet memorial plaques and granite garden stones are the perfect way to memorialize your beloved and cherished companion for years to come.
The loss of a pet can be just as hard as losing a family member or friend. How often your pets companionship comforted you over the years during both good and hard times. Losing your pets attention and unconditional love can be very heartbreaking.
Pets become part of the family and we all grieve differently when a loved pet passes away. But we all want to remember our pets best memories, showing off their off their personality and their relationship to ourselves. When our loved furry friends pass on, it's appropriate that we recognize their importance and honor their life with a pet memorial.

Keeping your pets memory alive with a memorial plaque is a great way to remember all the great times and special moments that you shared with your pet. A laser engraved plaque or garden stone can go a long way to remember the fond memories of your pet. Our advanced, computer-driven laser systems enable us to precision engrave on many types of materials like wood, marble, and granite.
After a pet has passed away, many people like to mark the grave or the site where they've spread their pets ashes with a special marker or plaque. Our granite garden stones are an excellent choice for outdoor use.
Engraved Pets has a wide selection of engraved wooden plaques and granite stepping stone markers to honor your animal companion. Many of these pet memorials can be personalized with your pets photo, name, dates, and often have a space for a brief message as well.
If you have more than one pet in a photo we will do our best to fit them on the plaque you choose!   Just keep in mind that we do have to scale your photo to fit the wood and that can result in cropping of the photo in some cases.   We never charge extra if more than one pet, or if people are in your photos!  Give us a try and you will have a keepsake forever of your cherished pet!