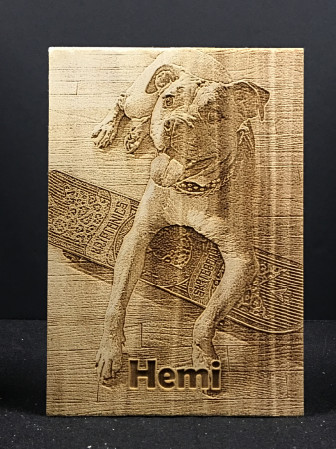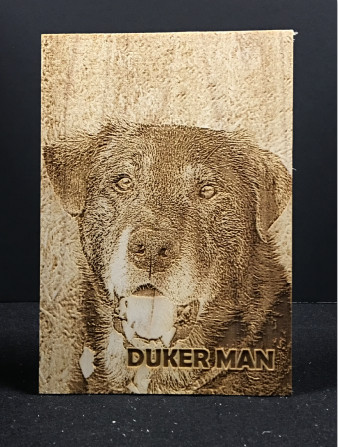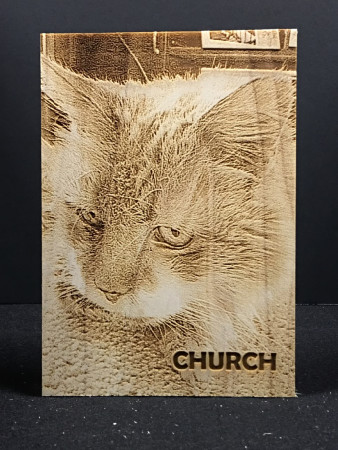 Have questions?  Please see our FAQ section below!   If you cannot find the answer to your question then please use our contact form to ask!  We will be happy to further assist with your needs!
How long does it take for my order to arrive?
Turn around time is about a week or less for most orders.   There may be a slight delay if you order on the weekend or a holiday, but generally you can expect your order to arrive in 7-10 days.
Why do I get an error when I try to upload my pets photo?
For the laser engraving process we do need a good high quality photo.   Digital cameras are rated by mega-pixel with most cameras manufactured in the past 5 years having a really decent photo quality.   It is recommended that you use a digital camera at its highest quality setting.    Most newer phones have a pretty good camera as well.   If the photo is really small on the screen then keep in mind that it has to be enlarged to fit a 5.5″ x 8″ piece of wood.   If the starting image is poor then the engraving is going to be blurry.  If you are getting an error then your photo is too small to use!   Look for a larger and more detailed photo of your pet!
Can I have more than one pet in the engraving?
Absolutely!   As long as the photo you upload has your pets all in the same photo we will use what you send us.   Do keep in mind that if your photo is wide then you will need to select the wide plaque in order to have all your pets engraved.  Otherwise we would have to crop the photo to fit a tall plaque which may in turn cut off your pets furry faces!   (and we don't want to do that!)
How do you hang the plaque on the wall?
All of our plaques are also laser engraved on the back with a groove for easy hanging!   All you need is a trusty nail and wall to put it on!
The plaques are lightweight so only a small nail is needed.
We recommend placing the plaque under a light to further enhance the 3D shadow in the engraving.
Do you ship outside the USA?
Currently we are only servicing the US market.   Shipping is only in the USA, but we will ship to APO/FPO Military addresses.
Can I pickup my order instead of paying for shipping?
If you are local to the area we do offer local pickup.   The founder of the Lawrence County Animal Helpers (Diane Mangino) has been super kind in being a pickup point for the plaques.   The "local pickup" option only shows in the checkout if you are in the New Castle, PA area.   We will message you the details once the plaque is completed so you can pickup.  All other orders are shipped via Priority Mail.
Do you have a Facebook page?